In recent years, coconut oil has become a culinary sensation. Hailed as a healthy fat, it's being used for everything from sautéeing and baking to raw desserts and smoothies. A dietary staple in many tropical countries around the globe, research has shown that coconut oil can help increase metabolism, lower cholesterol, fight infection, and even prevent Alzheimer's disease.
My favorite way to use this wonder oil is in on my skin and hair. It's clean (just one ingredient!), natural (it's a real food), and it's simple (what other body care product can do so much?). Most important, it's not laden with the chemicals that are so ubiquitous in today's beauty products—many of which are carcinogens, pesticides, reproductive toxins, and hormone disruptors. The personal care industry is notoriously unregulated, and with more than one-third of all beauty products containing at least one ingredient linked to cancer, we need to take our health and future into our own hands.
Every few months, I buy a 16-ounce jar of organic, expeller-pressed coconut oil (I like Jarrow Formulas, which sets me back about $12). There is no scent, so I often transfer a portion to a smaller container and add an essential oil like ylang ylang or grapefruit. I like to keep my beauty routine simple and not crowd my bathroom with unnecessary products, so finding an all-in-one, vegan product like coconut oil helps me to do that. It also makes traveling much easier, as a small jar along with a few other beauty essentials is all I need.
9 Surprising Ways to Use Coconut Oil:
On my body. Coconut oil is thick, rich, and luxurious, and makes a great all-over body cream. As soon as I get out of the shower, I slather it on from my neck down. Since it is oily upon application (I like to lay it on thick!), I let it saturate my skin by throwing on some boxer shorts and a tank top, having breakfast, and then getting dressed for the day. And there's a bonus! Many people claim that it can smooth out stretch marks, cellulite, and aging skin—as well as help with skin conditions like eczema. What's not to love?


On my hair. Once a week, I treat myself to a coconut oil conditioning treatment. After shampooing, I'll rub about a quarter-size dollop through my hair, put on a shower cap, and let it sit for 10 minutes while I shave and do a body scrub. After rinsing it out, I do another shampoo to ensure it doesn't leave an oily residue. If you really want to go deep, leave the coconut oil on overnight!


On my eyes. My trusty coconut oil makes a superb makeup remover. Simply swipe a cotton pad with just a touch of oil, and your eye makeup and lipstick will be instantly removed sans chemicals or unnecessary spending.


On my lips. Yep, coconut oil makes a great natural lip balm … no beeswax, parabens, or petroleum required! You can even purchase a small jar to fill with coconut oil for your on-the-go lip needs.


On my feet. Need to soften up your soles? Coconut oil is my secret weapon. Enjoy a spa moment by rubbing it on your feet before bed so it soaks in during the night. When you wake up, your feet will feel
soft and supple.


On my nails. Continue the spa theme by massaging coconut oil into your cuticles and then all over your hands. This is also a good nighttime ritual, and my nails always look silky and healthy whenever I give them a little coconut rubdown.


On my sun-drenched skin. Studies show that coconut oil makes a good sunscreen, blocking about 20 percent of ultraviolet rays. I do use a secondary sunscreen when I'm out in the sun (I love Eminence!), but coconut oil makes a great everyday base. And if you find yourself with a little too much sun, coconut oil is a soothing after-sun cream.


On my wounds. Yep, coconut oil even works as an effective first-aid balm. Last month, I burned my shoulder with a hot curling iron. After a few days of applying coconut oil on top, the burn was gone! Research shows that wounds treated with coconut oil have higher antioxidant and collagen levels, which helps the healing process.


Under my arms. A few years ago, a friend told me that coconut oil works as a deodorant, and I've been hooked ever since. User beware, however: for me, it works as a light deodorant and is perfect for the days I work from home. If I am in the office or stressful situations, I do use a couple swipes of store-bought, aluminum-free deodorant to
keep things under control.
Here's to clean, healthy body care—as what we put on our bodies is
as important as what we put into our mouths.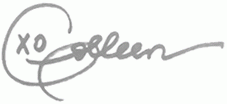 P.S. Want more healthy living tips? Sign up for the Healthy Vegan Newsletter and receive my free Healthy Vegan Lifestyle Guide!